Project: Blue Academy
The task name: The potential of the Pomeranian Voivodeship
Project coordinator: NMFRI Gdynia Aquarium
People from a variety of polish regions are attending universities in the Pomeranian Voivodeship. How northern fragment of our country is perceived by academic youth, who is currently searching for a lifepath? The Pomeranian Voivodeship is much more than a sea alone. "The Potential of the Pomeranian District – natural beauty and conservation" training is directed to students, especially those, who are interested in the environmental protection and documentary, and want to pass on this knowledge in the future.
The purpose of this training was to enrich youth's knowledge about the Pomeranian Voivodeship area, to show modern environmental issues that can be encountered in the area and to inspire young people to take part in the environmental protection via meetings with the specialist from a variety of science branches – people, that teach about nature in the creative way.
            Meetings for students took place in the zoological garden – Gdynia Aquarium, the nature reserve "Mewia Łacha" on the Sobieszewo Island, and during the educational cruise to Gdańsk Bay. Among the invited participants were: a visual arts artist, who specialise in the projects that combine variety of forms of communication, like sound and picture, co-author of the "Odwieczna potrzeba natury – Podlaskie. Bogactwo różnorodności" campaign ("The never-ending need of nature – Podlaskie. The abundance of biodiversity."); an expert in the field of marketing, who is involved in the projects based on a cooperation between oceanography museums and universities in the Northern Baltic area; an oceanographer, whose research is focused on using the sea resources to obtain biologically active compounds; a geographer taking part in educational projects in the field of active conservation, and a biologist, whose part of the training focused on a biodiversity, wildlife conservation, and endangered species.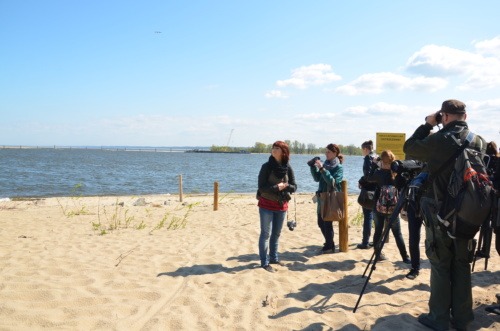 After the training came the four-month period for an assignment realization. Those assignments were destined to preserve obtained knowledge and to allow to use this knowledge in the creative way. The assignments were made in a form of documentaries (one to five minutes long), and were meant to touch a chosen ecological issue from the Pomeranian Voivodeship. The reviewers were considering a few factor when judging: the very idea, the importance of the touched environmental issue, the novelty of the showed issue and the creative side. Selected works were published on the Gdynia Aquarium youtube account after the presentation in the Gdynia Aquarium. Best picture touched the subject of dunes exposed to an invasive specie – rugosa rose (Rosa rugosa).
"The Potential of the Pomeranian District – natural beauty and conservation"
A training for students realised under the project BLUE ACADEMY, funded by Voivodeship Fund for Environmental Protection and Water Management in Gdansk.
Author: Małgorzata Żywicka