Project: "Mini-monitoring of the coastal waters of the Bay of Gdańsk in the vicinity of Gdynia"
Coordinator: NMFRI Gdynia Aquarium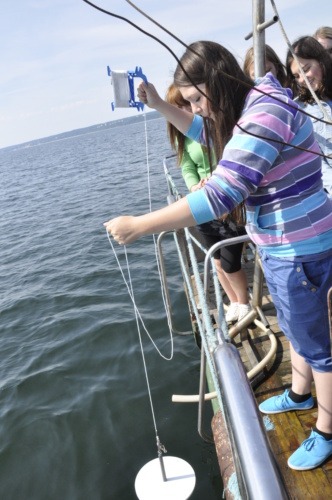 The program "Mini-monitoring of the coastal waters of the Bay of Gdańsk in the vicinity of Gdynia" was held between 2006 and 2011 under the "Competition for environmental education activities for the Pomeranian Voivodeship" co-financed by the Regional Fund for Environmental Protection and Water Management in Gdańsk. The activities were addressed to students of high schools, as well as those of secondary and primary schools of the Pomeranian Voivodeship (outside Gdańsk, Gdynia, Sopot) to rebalance the opportunity of accessing information and environmental education. 3,262 students and 319 teachers took part in the program.
The key objective was to shape the pro-ecological attitudes among the students and to foster a sense of responsibility for the cleanliness of the natural environment by learning actively about the sources, types and effects of the pollution of the Baltic Sea, as well as getting to know the methods of protecting the sea. In order to achieve this objective the students were to monitor the coastal waters of the Bay of Gdańsk in the vicinity of Gdynia. High school and secondary school students took part in trips on a hydrographic survey vessel and workshops in the laboratories of the Gdynia Aquarium MIR-PIB. During the trip the students were made familiar with the oceanographic equipment, collected samples of water using a bathometer, as well as of the fauna and flora of the Baltic Sea. Then, in the laboratories of the Aquarium, they performed physicochemical tests of the water, presenting its cleanliness and a qualitative analysis of the collected biological material. Primary school students attended a number of workshops, during which they took samples of the fauna and flora of the quayside near the Port of Gdynia. The collected organisms were described during the laboratory activities. The activities for all students were supplemented by a multimedia presentation about the Baltic Sea. The methods used to monitoring the waters activated the students, and led to the drawing of conclusions about the condition of the natural environment. The workshops as a whole have enhanced the knowledge and the experience of the participants, while carrying out work to demonstrate the positive aspects and the real threats to the coastal waters of the Bay of Gdańsk.
After the workshops the students visited the exhibition at the Gdynia Aquarium, including the part dedicated to the environmental protection of the Baltic Sea – "Eutrophication of the Baltic Sea".
Author: Magdalena Kalinowska